Remote.Innovation
We complete your team when and wherever you need us — immediately. →
Raison d'être
What we do. And why we do it.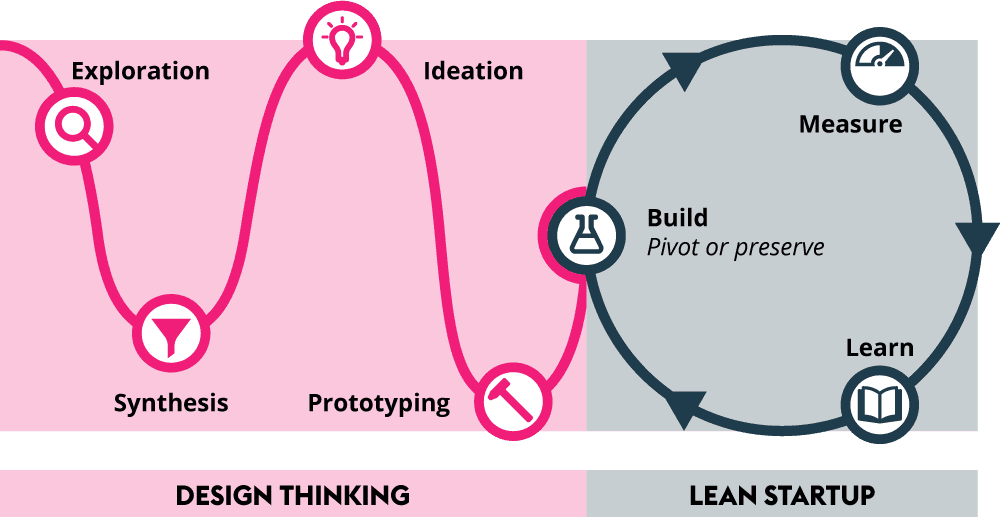 We accompany businesses in the development of innovations. We have been intensively involved in design thinking and lean startups since 2011. Today we are one of the leading companies in this field.
The digital world brings you to people in a split second. That's why it is all the more important to understand your customers' needs and to impress them with your product or service. Our approach is user-centered and agile - because we are very successful with it.
We combine your know-how and the strengths of your team with our specialist knowledge. With this co-creative approach, we drive your project and your goals quickly and successfully forward. You benefit from a high level of process reliability and our startup skills.
What we offer
We identify the hidden needs of your customers or users and accompany you on your way to the MVP (Minimum Viable Product). This first version of a product or service already contains those characteristics that your customers or users value within its core.
1. Exploration

With 7DAYS INSIGHTS, we immerse ourselves in the world of your customers' thoughts for a week. We discover unexpressed needs and can address them. The web-based 7Days app forms the basis for the participants' digital diaries.

Read more

2. Ideation

In SPEED CREATION, a multidisciplinary team analyzes your problem. This gives rise to many different ideas, from which we gradually develop four to five concrete solutions over the course of two days.

Read more

3. Validation

You want to avoid unnecessary investments in new products? Our DESIGN SPRINT clearly shows you which projects will pay off for you. Thanks to this lean startup process, you will know which goal you should pursue and how after just one week.

Read more
What are we waiting for?
There are many reasons to speak to us. Maybe you would like to talk to someone about your newest project? Or do you have questions about innovation topics and our formats? We're always willing to listen and looking forward to meeting you. Here you can schedule an appointment online.